Customer's Requirements
The customer is a well-known manufacturer of bicycle components in Taiwan, and they would like to implement a paperless system to achieve real-time data integration. In the past, there were many forms managed manually at the factory, and the on-site personnel executed behaviors such as new product warehousing, material picking, and outbound delivery based on these forms. Since they were all managed manually, the on-site forms and the internal system processes could not be synchronized and updated in real-time. In addition, due to manual management, the transparency of execution details was insufficient, and there were concerns about information being tampered with and frequent occurrences of receiving wrong materials. Moreover, a large number of forms were not easy to carry around and tend to get stained in the factory environment.
To solve the above pain points, the client has implemented iMozen's mobile computer TC603. The TC603 features a 6-inch large screen for easy to read with lightweight and sturdiness, which is the reason why the TC603 is highly favored by the client and stands out among other different mobile computers.
Moreover, the client also implemented WMS developed by ZeroDimension Tech, who has rich experience in manufacturing. By integrating procurement platform and supplier platform, information flow and goods flow can be accurately synchronized with management side in real-time.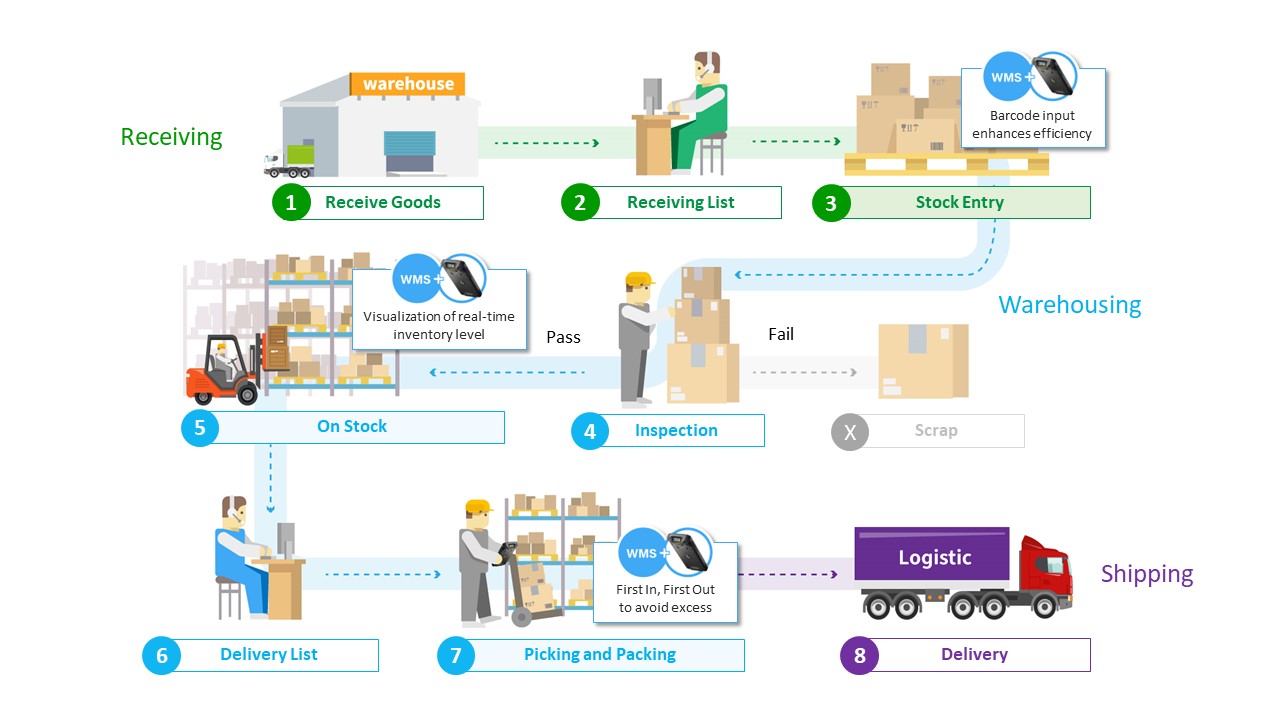 After implementing WMS, the client can optimize the factory operation from three aspects, including receiving, warehousing and shipping.
Receiving: In the past, it usually took 10 minutes to manually key-in receiving lists. With WMS, this process can be shortened to 3 minutes, greatly improving operation efficiency. Moreover, the receiving information can be synchronized timely in the system.
Warehousing: In the past, due to the unclear material inventory level, a large amount of inventory had to be prepared in advance. However, implementing WMS can provide visualized and real-time inventory level monitoring, which can accurately arrange the ordering time, and help the client to receive real-time and clear inventory information and thus optimize goods scheduling.
Shipping: In the past, manual operations were prone to picking wrong goods. With WMS, inventory can be managed on a first-in, first-out basis accordingly, and the location as well as materials in the warehouse can be confirmed to reduce errors.
Moreover, WMS can facilitate real-time synchronization and transparency of internal management information for enterprises, allowing management personnel to obtain the latest information of on-site operators in real-time. The iMozen TC603 mobile computer chosen by the client features ergonomically designed with a 30-degree tilt scanning angle scanner, and its lightweight body at only 235 grams, allowing end-users to use it for long time without fatigued. In addition, a variety of accessories enhance TC603's usability, such as bumper and shoulder straps, which not only provides mobility but also improves drop resistance. In addition to the implementation of hardware, iMozen also provides the Mobile Device Management (MDM) software service, including Kiosk Mode to facilitate remote management, saving IT's working time and strengthening the on-site management.
In conclusion, the integration of Warehouse Management Systems (WMS) and the TC603 mobile computer has greatly supported the client to achieve paperless factory management, as well as real-time information synchronization and consolidation.
What iMozen Offers
TC603, a thin, light and rugged handheld device to be applied to retail, logistics and field service applications.
Ergonomically designed with a 30-degree tilt scanning angle to enable the users to achieve the fastest and most accurate scanning performance with the easiest and least strenuous hand gesture.
Provide the Mobile Device Management (MDM) software services, including Kiosk mode, to facilitate remote management for end customers and save IT personnel's work time simultaneously.